AmyK



I enjoy leading teams, defining and improving processes, and delivering fantastic work! I've spent the last 10+ years working with clients across a range of industries (tech, finance, healthcare, retail) and a breadth of mediums (web, mobile, video, experiential) and am always up for a new challenge.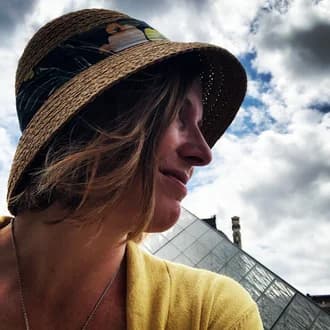 Q
How did you get interested in creating? What were your early influences?
My love for film and theater are what originally drove me into production. While I have a strong creative side, my ability to organize and think through details are what ultimately led me to becoming a producer.
Q
What are some of the golden rules you follow as a surefire method to deliver a compelling project?
Truly understand the brief - ask questions, get clarification - and then make sure the entire team does, as well!
Connect with team members, both as a group and individually, so you are getting ongoing solid feedback and updates.
Feedback along the way can come from many directions - everyone should feel empowered to ask questions and dive deeper
Q
How do you approach working on a project for a client and what is your process?
It's essential to get a solid understanding of the client's needs - their business, their pain points, their expectations, so you can kick off the work knowing that you are headed in the right direction. Keeping the right level of contact and communication is also crucial - work in progress reviews, easy access via slack or other means for the questions that will inevitably pop up, timely status updates - so that there is no misalignment about expectations.
Q
What is your ritual as a Creative – from ideation to final result?
As someone who is responsible for delivery - and therefore both the quality and the timing of all work - effectively tracking notes, feedback, and specifications at every step of the process helps me to feel confident that there won't be any surprises or misses.
Feedback along the way can come from many directions - everyone should feel empowered to ask questions and dive deeper
Q
What was your very first Creative job? How have you grown since then?
Shortly after completing school, I took an internship at a small film production company. It was an invaluable opportunity to absorb information and process, ask questions, and get some hands-on experience. Many years later, as I manage and mentor individuals in the early stages of my career, I keep in mind how important it is to be able to learn from others and have the space to ask questions.
Q
What was your most challenging project to work on?
I spent 2+ years working with a large B2B company to transform their website, both via front-end design system and via their customized CMS. The sheer number of stakeholders involved made feedback and approvals a challenge - but figuring out how to move the initiative forward, achieve consensus, and launch the new site was a very rewarding experience!
Q
Kindly take us through a particular project of yours that you cherish.
Launching a new premium credit card for a banking client was an amazing experience. Our team was part of pretty much every phase - from the actual card branding (naming + physical card design) to product website to exclusive launch events. Key to success was truly partnering with our clients along each step and helping them define the product/brand and how it lives under the umbrella of their larger brand.
Q
How do you think quality, storytelling, and great teamwork come together on a project?
I firmly believe teamwork drives quality storytelling. When talented individuals come together with the right synergy and have the creative space to take risks, wonderful things happen. I see my role as a producer as someone who enables creatives to do their best work.
Q
Please share with us your absolute favorite project from amongst all your work.
While it's hard to pick a single favorite project, one of the experiences that sticks with me is the launch campaign for the U.S. Bank Leverage card - it's a small business product, so in addition to the typical activities (webpage, digital and print materials) we actually met with small business owners to understand how this product would help them with their businesses, and created videos based on these conversations. It was a rare opportunity to engage directly with our audience and essentially have them co-create both the product and the campaign.