Jordan Kotzebue



Jordan has dedicated 15 years as a career artist, diversifying himself artistically as much as possible. He possesses a wide range of skills when it comes to sequential art and storytelling. He first broke into the industry working on Sucker Punch Productions' hit, "Sly Cooper" series, as a cutscene character artist, story artist and animator. His specialty has been storytelling and 2D animation, but he has also been in several leadership positions including Art Lead and Art Director. He loves working with teams and collaborating on making the best stories possible. Jordan has been a part-time instructor, teaching the next generation of storytellers at Digipen Institute of Technology, helping students learn the art of storyboards and comic book sequencing. During the other part of his working hours, Jordan works as a freelance illustrator. Most notably, he has done work for Titmouse, Netflix, DC Comics, Amazon, PopCap Games, SuckerPunch Productions, PUBG, and Scifi Channel's, 'Krypton". During his free time, Jordan can be found hard at work on his Creator-Owned comic series, "Hominids".
The Art of Telling Stories with Visuals
Q
How and when did you come up with the idea of becoming a Story artist?
Jordan: Telling stories visually has always been a passion for me. I was a comic artist before becoming a story artist. There are so many similarities between the two, but I found drawing comics to be a slow and methodical process. Whereas storyboards are fast with lots of energy. After years of comic work and its energetic speed was highly appealing. Mainly though, I wanted to keep telling stories!
Q
What does your daily routine look like?
Jordan: I love sleeping. But naturally, work requires me to wake up at 6 am and I don't mind it because it gets my day going. There is something to say about the calm that happens when everyone else is asleep.
Once I have my coffee, it is often straight to work on whatever project is going on. And if there is time, I like doing a morning warm-up sketch to get my mind right. By around noon, I need to move and break up my day, so I do some exercising, before lunch.
I try to have all my work done before I sit down for dinner. After dinner, I take in a movie or a show or sometimes just read. I try not to look at my computer once the sun has gone down.
Q
What are the challenges you faced in reaching where you are today?
Jordan: New challenges always present themselves. For me, reinvention forces change and I like that because I get to learn something new. When I decided to become a story artist, I realized there was still so much I needed to learn. So part of the challenge was to be patient and let myself grow without rushing it.

Q
What is the process you follow to make your artwork?
Jordan: I'm one of those people who likes to get right to work. So I start sketching right off the bat. Just doodling and allowing myself to discover what I need to do next.
Once I have a sketch or two that I like, I know all the elements that will be included in my art and I go on my "fact-finding" mission. Collecting references can be fun but I also want to get back to the art as soon as I can. The rest of my process varies depending on what I am working on. I try to be versatile in what I can do, but if I have a solid composition from the start I can take that initial sketch any which way I please. So most of my time is spent at that stage.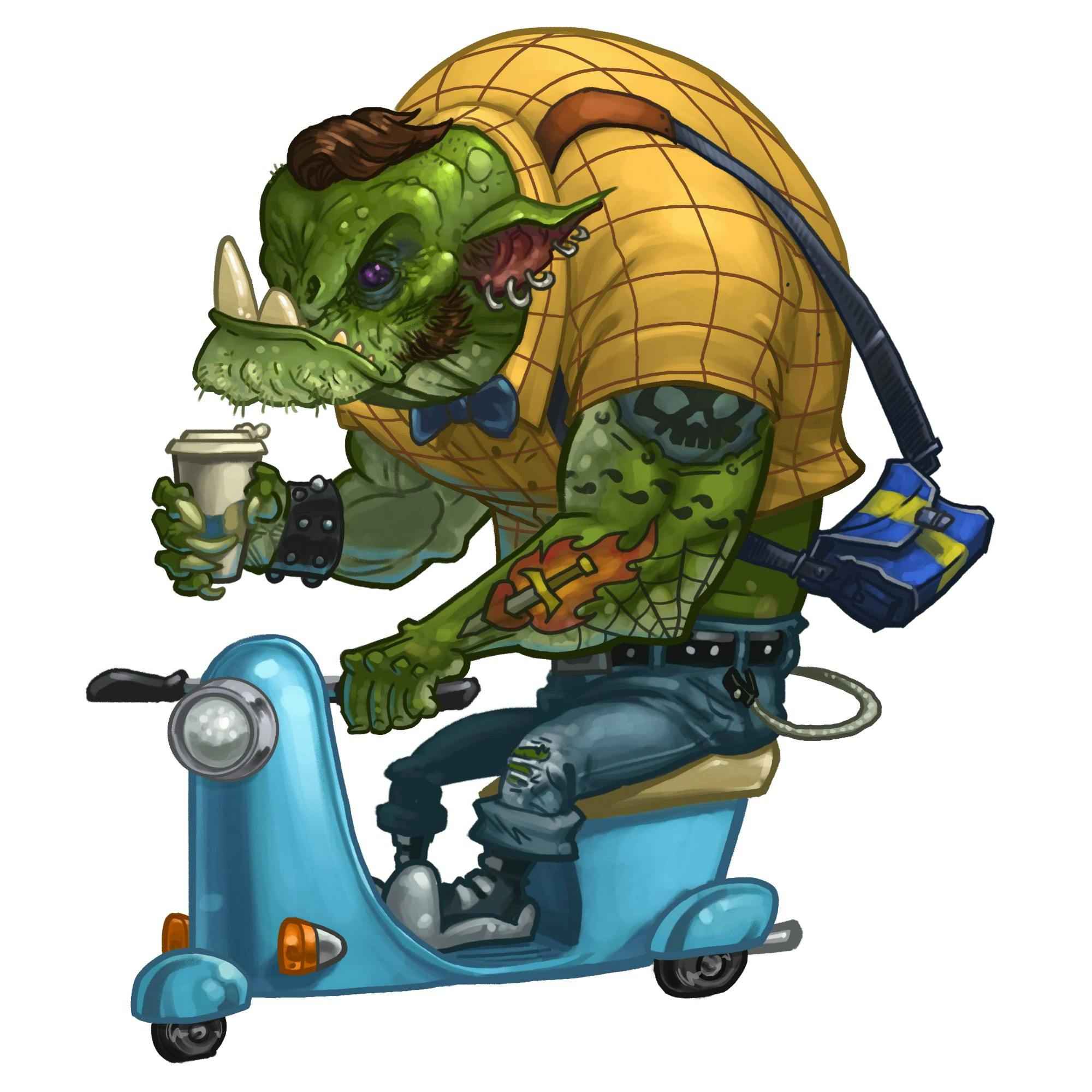 Q
Who or what is your muse?
Jordan: I try and find inspiration in everything I experience. Living in the Pacific Northwest, I love being outdoors any time the weather tells me it is okay. Running and hiking in the forest, breathing in that fresh air is hugely inspirational. I am also greatly inspired by other artists and creators. We all think a little differently and I find myself excited and ready to work any time I unlock a little knowledge that was previously hidden from me.
Q
How was your experience working on Sucker Punch Productions' hit, "Sly Cooper" series?
Jordan: Working at Sucker Punch holds a special place in my heart. Not only was it my first professional art job right out of college, but it also marked the first time I got to work with my super-talented brother, Travis. And we've had a long career of working together ever since! I also made some of my best, longer-term friendships while working on "Sly Cooper". Many of whom I also continue to work with to this day.
Q
While working for Amazon, Netflix and many others, did it boost your creativity in different directions?
Jordan: I've had interesting experiences in both companies. I was an independent contractor in both situations. So I was able to work from home well before there was a pandemic. These experiences let me acclimate to that kind of lifestyle before it was thrust upon the world.
Q
What according to you is your best creation?
Jordan: For the better part of 8 years, I wrote and illustrated a comic series called "Hominids". More about that in a bit.
Q
Most of your drawings are monochrome, is there a particular reason for it?
Jordan: I do enjoy posting my rough work. I always feel like a lot of energy often gets lost in a final piece of art. I don't initially aim to do monochromatic work. In fact, I love working in color.
Q
Which medium or technique do you prefer using the most while creating a character?
Jordan: Mostly pencil and paper. Nothing fancy. Just something I can sit on my couch and work casually, at least in the beginning. That makes it feel like play rather than work and I think that brings out the most creativity.
Jordan Kotzebue, an expert story artist in storytelling and 2D animation, can work on anything that excites him and involves learning.
Q
Could you please tell us about the Hominids comic series?
Jordan: Hominids is a series based on a world I created as a kid. Living in the Northwest of the United States, I was surrounded by huge green forests where your imagination could run wild. My friend and I would run around the woods pretending to be natives of the forest. When we arrived home we would then draw our adventures with our characters.
That fits perfectly with something that fascinates me as an adult, human evolution. The notion that there was actually a time in our history where more than one species of human was alive at one time is so cool! It's like Lord of the Rings but without magic. It surprises me that this is a genre that is largely untapped in storytelling. Prehistory makes up at least 90% of our history as humans. The stories are limitless!
Q
Which kind of story do you like the most?
Jordan: I enjoy any type of story that is engaging and has great characters that I can care about. The subject matter is a lot less interesting than it used to be for me. Once I realized genre mattered less than the core of what the story was, I started paying much more attention to the armature. Everything else is just about execution.
Q
How has your journey as a story artist and comic creator been like?
Jordan: An ongoing process. Whether my comic is successful in the eyes of the audience or if the scene I boarded gets a complete overhaul, if I learned something from the experience, then it's a success in my eyes. I work to learn and the reward is knowledge.
Q
What is one thing that you really look forward to doing someday in your career?
Jordan: I think I would love to be a showrunner on a series. To see it through from beginning to end would be a big challenge but really rewarding to have something like that under your belt.
Q
As an educator, is there something you would like to say to the upcoming story artists/ comic creators?
Jordan: There is no such thing as "Making it". There is only the level that you are on and the next level to strive for. That will always be the case.
Q
According to you what are the key features of a perfect client?
Jordan: Someone who knows what they want, who is collaborative, and who treats their workers with respect and honesty.
Q
What are you working on next?
Jordan: I am currently working with Titmouse Animation on the Disney Junior title, "T.O.T.S" as a storyboard revisionist. Next, I would love to storyboard a new series or feature.