James Parris







James Parris is a multi-hyphenate writer/director/animator/illustrator, straddling the disciplines of film, TV, live-action, and animation, and a self-proclaimed member of 'The Club of Getting It Done." A graduate of New York City's High School of Art and Design and Pratt Institute, his feature credits include The Lion King, Spider-Man, X2: X-men United, The Mummy 3, I Robot, and The Curious Case of Benjamin Button. TV series credits include Deadwood, Wally Kazam, Shimmer and Shine, Cosmos: A Spacetime Odyssey, and Doug Unplugs. Commercial clients include Toyota, Lego, SoBe, Playstation, Nintendo, and DirecTV.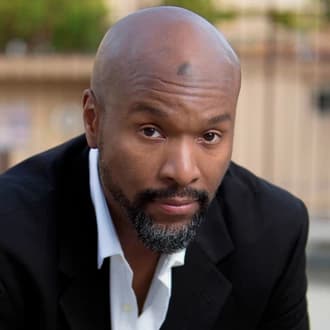 Q
Tell us about your background and journey so far, and how has it played into your professional journey.
I'm from Queens, in an area more known for Run-DMC and L.L. Cool J than for animators. But I got lucky and learned about the High School of Art and Design, so I was about 14 when I committed to the lifestyle of a creator. I doubled down on my artist identity in college, at Pratt in Brooklyn, drawing and painting like a madman. And that's when I stumbled upon a golden opportunity—I was encouraged to submit for an internship at a major animation studio!
At Disney Feature Animation, I got my first real dose of 'this is why moving pictures are intoxicating, and you can make them'. That's the moment I became addicted to the moving image and where the 'animator' and 'writer/director components of my brain came to life.
After a great run of working on traditionally animated features in the 90s, I added Maya to my bag and worked on a lot of live-action features and commercials as a CG animator, as well as directing animation for episodic TV and supervising remote studios. This is all happening while I'm diving into writing and developing original features and series content under my production shingle, Paper Tiger Films.
Q
Can you tell us more about your role as the head of visual and creative direction at Paper Tiger Films?
Paper Tiger Films is the shingle, and we're a small cabal looking to fill the world with more sci-fi, fantasy, and thriller stories. We're still fledgling, but be on the lookout! The hard work is going from 'development' to 'funded' or 'sold'!
Q
You have done many projects over the years. Which one is the closest to you? Can you share your experience working on them?
You never forget your first time.
First internship: The rescuers down under were in production.
The first completed feature film was The Lion King. The original.
First completed VFX on a feature: Spider-Man. Again, the original
Each one of these projects is special not only because of the high level of artistry involved but also because of the educational factor. Colleagues who were always kind and encouraging taught me more than I could have ever studied in school. I have all my co-workers to thank on those gigs for pushing me forward.
Q
What is your creative process like when you are working on a film project?
As an animator or storyboard artist, I listen first. The worst thing you can do is fail to understand what a director or VFX supervisor is asking of you. After listening, I start thumbnailing, and I try to thumbnail all the 'bad ideas' out as quickly as possible so the good ones can escape. My motto is 'That's cool; now make it suck less'. This is the same motto I use when planning a shot list as a director. The difference is that when you have a DP, production designer, and actors involved in live-action, there's homework you have to honor with the first two so that on shooting days you can give proper attention to actors.
Q
How do you collaborate with the film's director and other key personnel to ensure the visual effects align with the overall vision of the film?
Again, LISTEN. And if I don't understand a direction, I recite it back in my language to see if we're saying the same thing. If not, I ask for clarity. Surprisingly, lots of artists don't ask. But I'd rather ask a bunch of dumb questions now than disappoint later. Also, because I draw, I often show thumbnails if time allows. It's handy to have drawings in your bag, even on CG gigs. Everyone appreciates clarity.
Q
Can you describe a particularly challenging project you have worked on and how you overcame the obstacles during the creative process?
90% of challenges fall into the 'not enough time' category, and that's usually when you do this internal inventory. "Is this unfair and just plain impossible, and I need to say so to protect myself? Or is it a gut-check moment, and I just need to dig deep, bring my A-game, and power through".
It's not always easy to know which boat you're on. I worked on a movie involving reptiles on an aircraft, and there were difficulties with giving the studio the animation style they were looking for. At first, the mandate was "make them completely realistic', but the more 'real' we tried to animate them, the more disappointed the studio became. I pivoted to see 'the note behind the note" and realized they didn't want 'realistic', they wanted scary. So, we went full-scary, and lo and behold, the client started smiling.
Q
How do you balance your creative vision with the constraints and limitations of budget and time when working on a film project?
When directing personal short films, I usually negotiate access to a great location first, then write a short story that fits the environment. That way, I avoid the hassle of searching for an impossible location to shoot a story I've fallen in love with. Regarding budget, I keep a lot of my films cheap by wearing most hats, which means taking the time to learn multiple crafts. But I like being amphibious. For example, on my recent short, 'SNOOKIE', I'm the writer, director, DP, editor,  composer, and motion graphics guy—basically the all-in-one dude.
Q
Tell us more about the debut feature film "The Modern Girl's Guide to Wishing", and your experience working on it.
That feature project is still under development. The title is now 'The Everygirl's Guide To Wishing', and it's a buddy comedy involving two young creative women, an ad agency, and a geek! It's a "be careful what you wish for" story, as all genie movies tend to be. And it shares some DNA with 'Christina's Cross', a horror/thriller we're developing about a young woman struggling with the growing presence of her dark alter-ego. One is funny, and one is scary, but both deal with the struggles of sisterhood. Maybe it comes from watching my two older sisters grow up.
Q
How do you stay current with the latest advancements in animation and visual effects technology?
Sounds funny, but... YouTube. :) And the grapevine.
Q
What advice would you give to aspiring artists and animators looking to pursue a career in the industry?
Renounce normal life. (Ha!) But really. You're not normal, and the sooner you make peace with being a weirdo, the more time you give yourself to concentrate on being the most fabulous weirdo you can be.
Surround yourself with teammates and cheerleaders, not spectators and opposition. That wins games. As Quentin Tarantino famously said, "Get out of Loserville". You want to associate with those farther ahead on the path than you. Run the track with faster runners. Lift weights with stronger lifters. Proximity to serious people will make you serious. Proximity to unserious people will result in you never being ready for prime time. Watch everything. Movies, shows, plays, any stories that can make you feel something, and reverse-engineer. "How did she do that? What shots made me feel that way? Is there BTS footage available? I'm going to mimic that for fun!" 
And do the damn work; don't expect a body of work to create itself. Invest in yourself. Bet on yourself.